Marketing Plan in 30 Days: Day 22
The commercial real estate industry is notorious for being late adapters to technology.  At least half of brokerages do NOT have their own website and agent websites are virtually nonexistent.  When you add in the fact that most websites do not convert – you have a recipe for getting ahead.
Creating a website that converts will move you light-years ahead of the game!  Let's discuss some easy ways to get your websites converting.
1. Join Newsletter / Get Updates.  This is one of the easiest ways to receive conversions as these forms often only ask for an email address.  If you don't have a newsletter or email list, you can simply make this a generic "Get Updates."
2. Popups.  Most people (myself included) put the "conversion call-to-action" at the bottom of the webpage.  Unfortunately, studies show that only 20% of visitors reach the bottom of any given webpage (source).  In order to combat this issue, website designers began using pop-ups to increase conversions.
As a rule-of-thumb, set your popup to show either at the middle of the page (during scrolling) or after a visitor is attempting to leave the website.  It should only show ONCE – not once per page, but once during a visit to your website.
This is purely personal preference!  If you hate popups with a passion don't feel pressured by the statistics.  If you're interested in learning more, here are some popup plugins that can be customized easily.
3. Contact Forms with Autofill.  Contact forms are an easy non-obtrusive way for a website visitor to contact you, but too many fields on a form can send them packing.  I like to focus my contact forms around Google's autofill.  When fields are easily filled with automation, all your visitor needs to fill-out is the comment / question section.
Fields that are automatically filled:  First Name | Last Name | Email | Address | City | State | Zip | Country | Phone | Company Name.
Pro TIP!  Make sure your website designer knows how to create a form that's compatible with auto-fill.  Also, if you want to ask more questions beyond this, keep it down to 2-3 additional fields.
4. Elicit Trust with an eBook.  An eBook is an excellent way to receive conversions and an even better way to showcase your skills as a commercial real estate professional.  EBooks are 6-12 pages of honest advice that your target market would be interested in.  You trade this Free PDF in exchange for contact information or subscription to your newsletter.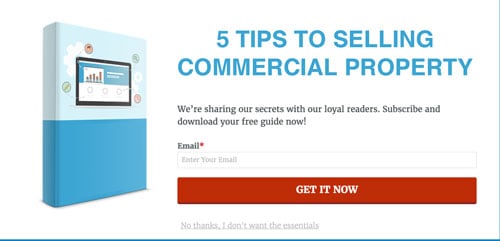 Now that you have a website that's built to convert!  Let's talk about the next and MOST IMPORTANT STEP.  Follow-up.
On to Day 23: Commercial Real Estate Websites – Follow Up that Converts