Want to download an Excel spreadsheet of building owners sorted by location or property type?   This idea used to be a pipe dream of for everyone in our industry.  I didn't think anyone would service the commercial real estate lead generation niche until Reonomy came online.  Here's why I think a Reonomy subscription is worth its weight in gold.
Finding Leads with Reonomy
1) Search by location.  Is there a prominent area you want to focus on?  Do you want to reduce travel time by only marketing within 5-miles of your office?  Pull the data from exact locations.
2) Narrow your search with property characteristics.  For instance, if you are preparing mailing / phone campaign for a brand-new property, consider using "Year Built" to build a list of people in older buildings near yours.  Advertising "New in your Neighborhood!" may sell those office condos fast!
3) Narrow even further with "Land Use Picker."  Finding those elusive car wash and gas station owners is easy when you can narrow your results as easily as this!  Example, use the checkboxes to get the contact info of the exact industry that would fit perfectly into that stagnant, vacant lot your desperately trying to sell.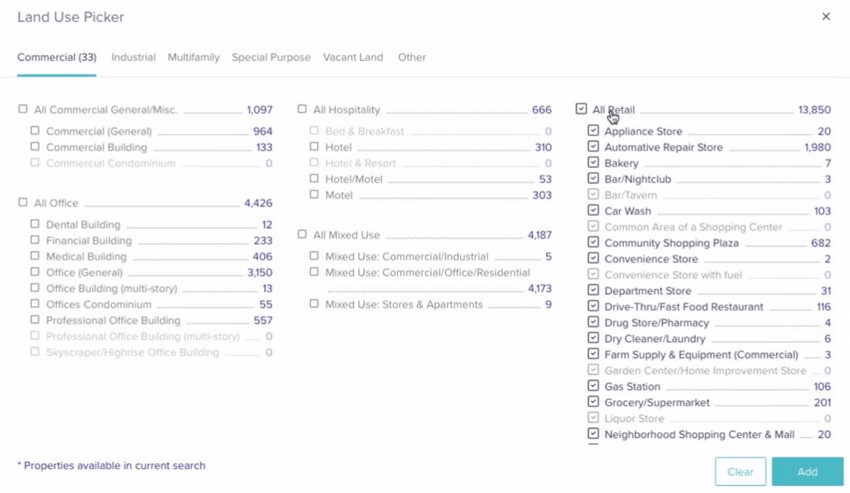 4) See your search results.  Now that we've narrowed our search to a very small market segment, let's see what information we can find.  Address of property, APN, lot size, zoning, lender, building info, most recent sale date, and current owner are all included.
5) See owner info.  Our main goal is to pull leads from Reonomy, so let's check out this property's owner.  Here's a mailing address and contact – Tom Andrews!  (I blurred out his number for this demonstration.)
6) Download an Excel Spreadsheet.  Did you think filtering and viewing ownership was easy?  Just wait until you see Reonomy's export function!  Click on the "Actions" button and hit "Get Contacts".  Choose the number of contacts you want to export (depending on your package, there may be a limit of how many you can export per month).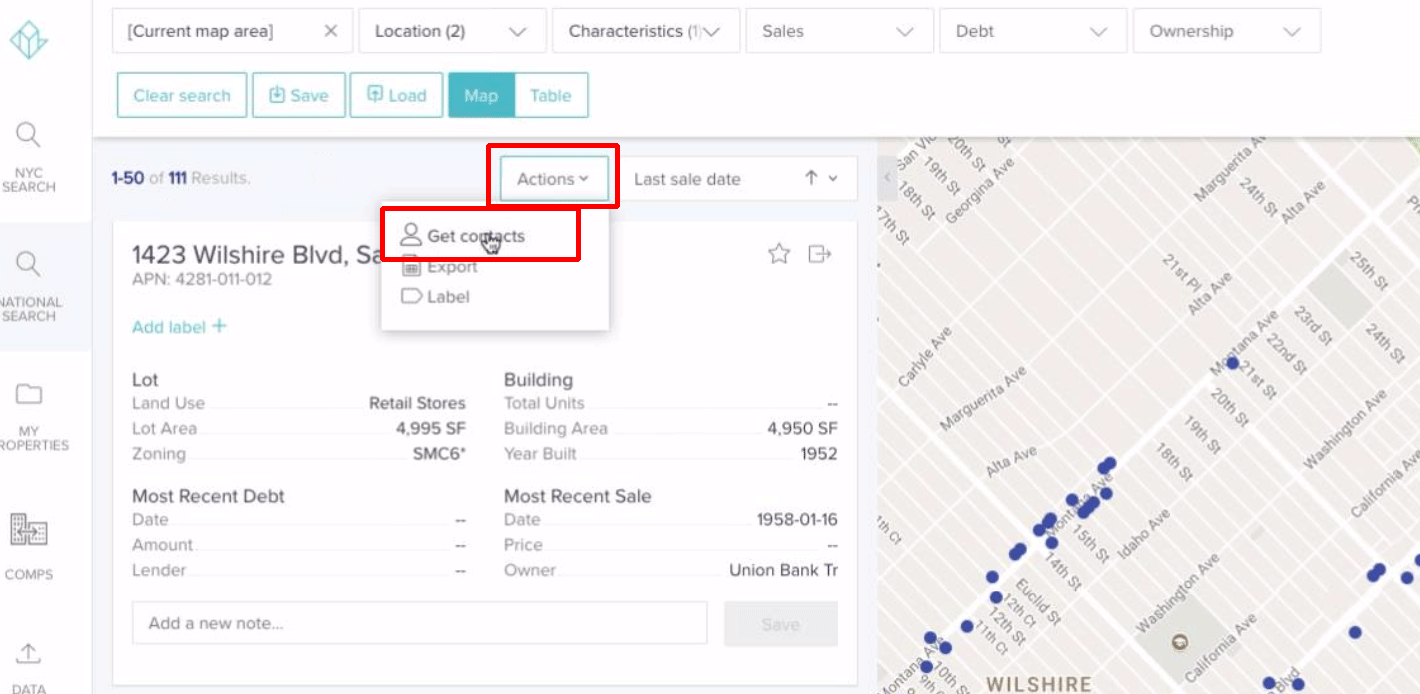 7) View your Spreadsheet.  Check out all the useful information!  For our purposes of Lead Generation, it comes with Mailing Address, Owner contact name, phone number, and even some email addresses.  I highlighted two contacts in the spreadsheet with public emails.
You have your leads!  Now what?
How to use your spreadsheet.  You now have owner information in a convenient spreadsheet.  With this list of contact phone numbers, consider using new cold calling strategies like Direct to Voicemail.  You can pre-record a message and send it out to hundreds of phone numbers with a click.  No ringing, it goes directly to voicemail (it works on direct business lines).
Or consider a mailing campaign.  Postcards average about $1 and lower for printing, addressing and mailing with services like VistaPrint.
With the provided emails, consider sending them a direct email.  Mention their property, and offer them something like a few articles they may find interesting.  The more personal you get, the more likely you will receive a response.  In my personal opinion, I believe you can add these emails to a mass email campaign, as long as your campaign follows the CAN-SPAM ACT requirements.  While I, personally, do not know "beyond a shadow of doubt", I am under the belief that these emails are not harvested (harvested emails are gathered with illegal bots).  Therefore, I feel they are compliant with current Spam laws.  Read about CAN-SPAN Act of 2003 to make your own decision.
Reonomy – A Personal Review
My review of Reonomy.  Back in the days of yore (2006-ish), to find property owners, I traveled to my county's Public Records office across town.  There, I would spend about $2 at the parking meter and make the journey through three stories of government offices to find "Public Records".  Public Records was a dreary area of the building, full of huge, metal cabinets headed by two women with stacks of records on either side of their desks.  Every month, I would request a print-out of commercial properties that had changed hands the previous month.  It cost about $1 a page, cash only.  Armed with papers, I would sit in front of one of the two records computers and type in APNs individually.  I would hand write the new owner's contact information beneath each property on my print-out.  This was given to our receptionist to input into an Excel spreadsheet, that ironically no one ever used.  It was too massive, too complex, too general to make calls or send mailers.  What a waste.
Today, many Public Records departments keep their information in GIS maps online, making the process a bit easier.  But the filtering and exporting features are not present.  With Reonomy's advanced filtering abilities, it drastically reduces the amount of time taken to gather and act on those leads.  Time is money.  You can't afford to waste one week a month copy-pasting from Public Records.  If you can pay $160+ for your TV package, I think you can figure out a way to afford a money-making asset producer.
Reonomy is a must have!  And no, they don't pay me to say that.  I'm just a fan!